Announcement at CoKoCon and 6.5 Kurz, Pilgrim's Trail
I am going to be making a major announcement that will change our understanding of the History of Ancient Egypt during my presentation on Sunday 1 Sep at 11:30 at CoKoCon in Phoenix. It may seem out of place to make an announcement about a major historic discovery at a Science Fiction Convention, but it was preparing my presentation for this convention the led to the discovery.
"Pilgrim's Trail – Devil's Ride" is over 80K words and nearing completion. Unfortunately, the Egyptian History Research is taking precedent with my time. I do however hope to have both "Pilgrim's Trail – Casualties of War" and "Devil's Ride" available in the Fall as Cover Art is no longer an issue.
In 6.5 Kurz News, I got to fire both the AK and the HK-93 in 6.5 Kurz. Both Rifles test fired well and were extremely accurate but I was unable to do any precision firing due to extreme heat in Arizona t this time and time constraints.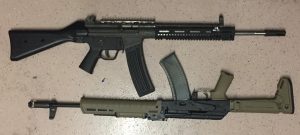 The HK-93 in 6.5 Kurz with Vortex Flash Hider that doesn't hum when fired unlike others.
The AK 47/74 6.5 Kurz that is a Romanian AK-47 internals on an AK-74 Receiver as the AK-74 magazines like 6.5 Kurz